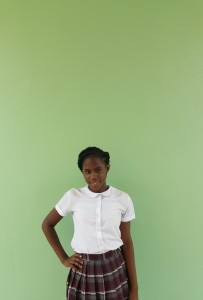 Delcia Burke
As a recent graduate of the Gingerland Secondary School, Delcia's favorite subjects include History, Social Studies and English. From a tender age, she was very active in public speaking and would often display this talent through various church activities. Delcia loves the Lord and takes the task of serving him any time she gets to do so without hesitation. Indeed, one of Delcia's favorite quotesis, "When you are down to nothing, God is up to something".

Delcia is described by her peers as welcoming and sprightly, as she always seems to spark a smile whenever her friends are feeling down. She was elected secretary of her secondary school's student council and held that post from 2014-2016. She is also presently the head secretary at her church. Delcia is an active member in her community and has a very soft spot for youth and their holistic development.
Delcia also loves music and is currently a member of the Sweet Sticks Steel-pan Ensemble. Her favorite music instruments are the steel-pan and the piano.

Of note is that Delcia has served as a prominent member of the Nevis Youth Parliament since 2015 when she was chosen to represent Nevis at the youth parliament sitting in Bahamas in 2016 and in St. Kitts in 2017. Debating has always been Ms. Burke's passion, one which she takes very seriously. Delcia's dream is to become a lawyer and she is putting in place the necessary requirements to make this dream a reality.
---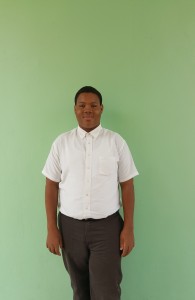 K-Jel Smithen
My name is K-Jel Smithen. I am sixteen years old and was born on the friendly and peaceful island of Nevis. My education path started at the St. Thomas' Pre-School, after which I journeyed to the St. Thomas' Primary School. I was determined to leave an indelible impact there and so I participated in every major public speaking competition that the school and the island held. However, my journey to success is not yet complete. Currently, I am enrolled as a student at the Nevis Sixth Form College where I pursue various subjects in the broader discipline of the Humanities. My career pathway as a Criminal Lawyer is therefore well on its ways! I am a sociable individual who is willing and focused. I love listening music, watching movies, and most of all getting intimate with God, as it is my belief that I can do all things through Christ who strengthens me and for every vision that I have he will make provision.
---
Lauren Lawrence
Independent, charismatic, driven and talented aptly describe this 4th form student of the Charlestown Secondary School (C.S.S). Her personal mantra, inspired by Ms. Gabrielle Douglas, is "the hard days are the best days because that's when champions are made". Sixteen year old Lauren Lawrence graduated from the Ivor Walters Primary School in 2014, where she placed second overall in her school for the Tests of Standard Exams. Throughout her academic tenure, Lauren has been involved in many School Reading and Spelling Bee competitions. In 2014, as a student of the Ivor Walters Primary School, her team won first place in the Annual Tourism Quiz. She was also a member of the team that placed first in the Department of Education's 2017 Spelling Bee Competition.

Lauren was the Secretary to the Ivor Walters Primary School Student Council and continued her role in youth politics by being a member of the Nevis Youth Parliament. She has also served as the President of the CSS Junior Achievers Organization. Lauren was extremely proud to be the Shadow Minister of Tourism in the Nevis Youth Parliament to commemorate the 2017 World Commonwealth Day. This opportunity allowed her to expand her dream of becoming a corporate attorney and a politician where she would continue to advocate for victims of social injustice. In June 2017 Lauren was involved in the 13th Regional Youth Parliament sitting and made a presentation on the CPA (CAA) Region Protection of Migrant Workers and their Families Bill 2017.

Lauren has two passions: singing and dancing. She has been performing from the tender age of three and has performed at many school and church functions, as well as dance productions and other community activities. Lauren has been a member of the Shekhinah Dance Theatre, since 2008, and now performs the role of student-dance instructor for children that are of ages 7 to 9. She is a member of the Coelis Classical Choir, the leader of the St. Paul's Anglican Liturgical Dance group, the assistant leader of the St. Paul's Anglican Church AYPA group and is an active member of the Nevis Cultural Development Foundation Folkloric Clown Troupe for over three years.

Lauren is very concerned about positive youth involvement in the community and has regularly participated in the Nevis Historical & Conservation Society's Annual Beach Clean-up and conducts regular visits to the Flamboyant Nursing Home with her various organizations. Lauren is a recent member of the Diamond Girls Club which help young girls to build self-confidence through involvement in positive activities. Duly cognizant of the platform it provides to aid in her holistic development, Lauren is extremely grateful for the opportunity to participate in the 2018 Leeward Islands Debating Competition.
---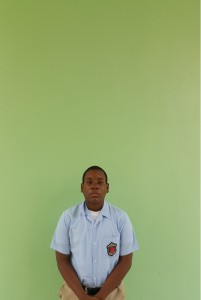 Mikkel Meloney
Clinical, analytical and perceptive are just a few words to describe 14 year old Mikkel Meloney, a 4th form student at the Charlestown Secondary School. From a very early age Mikkel demonstrated a propensity to the stage and towards the overall rigours of academic competition, having participated in a number of spelling bee events, debates and reading competitions during his tenure at the St. Thomas' Primary School. While in Grade 6, he was adjudged Best Speaker for his school's annual Debating Competition and is also a past winner of the annual Family Book Feud hosted by the Ministry of Education. Mikkel also enjoys drama, music and poetry. He believes that the art of public speaking opens up a world of exciting opportunities and he is therefore enthused about his selection to participate in this year's Leeward Islands Debating Competition.
---
Rol-J Williams
Eighteen year-old Rol-J Williams has an undeniably remarkable catalogue of achievements that demonstrate excellence in academics and public speaking.Throughout his elementary years at the Violet O' Jeffers Nicholls Primary School, Rol-J was awarded Best Speller on the island of Nevis in the 2011 Inter Primary Spelling Bee Competition, Best Student of the St. Johns Community Improvement Club (SJCIC) Inter School Quiz, winner of the 2011 Tourism Quiz Competition and 2011 Valedictorian of his Graduating class having accomplished Best Test of Standards Results in 2011.His habit of excellence is exhibited in his accomplishments during secondary school. In 2015, he won the Eastern Caribbean Central Bank Essay Competition and then placed 2nd regionally in the Florida Caribbean Cruise Essay Competition. He won the ECCB's Essay Competition again in 2017 where he wrote on the United Kingdom's exit from the European Union. Rol-J maintained honour roll status throughout his years at the Gingerland Secondary School where he finished top of his class. The 2016 Valedictorian tackled 17 CXC-CSEC subjects where he returned seventeen grade one passes and was recognized as the most outstanding performer overall, as well as the top performer in the area of Business and Humanities in the Federation of St. Kitts and Nevis.Beyond academics, Rol-J was adjudged the local winner of the 2014 Tourism Youth congress where he attained the title of Junior Minister of Tourism. Thereafter, he represented Nevis at the regional level when he participated in the Caribbean Tourism Youth Congress where he defeated all other participating islands and was named Caribbean Junior Minister of Tourism. As an active member of the Nevis Youth Parliament he debated and acted as Leader of Government Business, travelled to Barbados for the Regional Youth Parliament at the 39th Regional Commonwealth Parliamentary Association Conference in 2014 and in 2015 was made Premier and Minister of Finance of the Nevis Youth Parliament.For three consecutive years, Rol-J attended the Commonwealth Regional Youth Parliament and was awarded Best Orator for the government side when he participated in the 2015 sitting of the Commonwealth Youth Parliament in Tortola, BVI. He continued his journey in public speaking during the 45th staging of the Leeward Islands Debating Competition and captured the award of Best Speaker in his first debate against Montserrat. His fascination with the art of public speaking has been greatly inspired by notable Caribbean politicians Dr. the Honourable Ralph Gonsalves and the Honourable Mia Amor Mottley.To this end, Rol-J is thrilled to be able to further hone his talent and ability in public speaking by participating in the 46th installment of the Leeward Islands Debating Competition.
---
Tassai Pemberton
From the island of peace and tranquility, eighteen year old Tassai T.V. Pemberton has always excelled in one thing – talking.

From a young age she has been exposed to a number of educational, cultural and character building events and activities such as Spelling Bee competitions, Poetry and Toastmasters.

Being a piloting volunteer in the educational and community oriented SCI volunteer program aided in grooming this young person in wanting to leave a mark in her community.

Along with completing her high school education at the Charlestown Secondary Sc
hool, capturing 12 CSEC subjects with 6 grade ones, she is also proud to have been able to represent her country by being selected to travel to Tortola and Bahamas consecutively to participate in the annual Commonwealth Youth Parliamentary Debates along with her team.

She was able to demonstrate her leadership skills as an Executive Member in the Junior Achievement Entrepreneurship Training Program when her team was selected to vie for the title 'Company of The Year' held in Jamaica in 2015. Tassai feels blessed and honoured to have been able to participate in all of the aforementioned activities.

Besides her educational pursuits as a second year student at the Nevis Sixth Form College, Tassai is currently a senior dancer at the Shekhinah Dance Theatre, a growing pianist at the Scherzando School of Music and a firm a Christian believer at the Shiloh Baptist Church. Her life's motto is rooted in Philippians 4:13 "I can do all things through Christ who strengthens me".
---
Mr. Anselm Caines is a trained attorney-at-law and currently serves as a Senior Policy Officer within the Nevis Island Administration. He is passionate about public speaking and development issues, particularly within the Caribbean Community. Mr. Caines is an ardent supporter of young people and their holistic development. He has previously served as both the Commonwealth and the CARICOM Youth Ambassador for his native St. Kitts and Nevis and is also a past President of the Nevis Literary and Debating Society. Mr. Caines believes that education provides our youth with a permanent passport to success. Consequently, he is pleased to return to an environment which he loves dearly, this time as Staff Sponsor for the Nevis Debate Team.